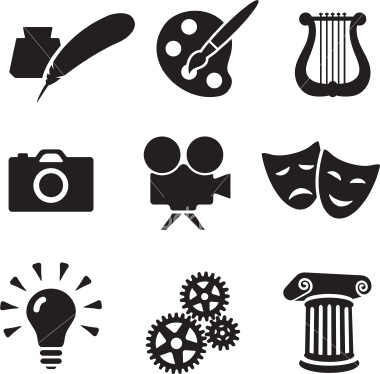 Art. A word that often conjures up visions of large pieces of canvas covered with paint in a manner from which only the artist or those who fancy themselves connoisseurs of the arts can derive any beauty or inspiration. Those of us who aren't as cultured as these occasionally uppity and snobbish folks stand back and mock them for being bamboozled by the "artist" who appears to have not had a haircut or shower in some number of days if not longer. That may be an unfair characterization of the artsy set, but it is a characterization that is probably more prevalent than the artsy may care to admit. I grew up in the country. There weren't a lot of museums or concert halls in Slapout. There is a Kennedy Center for the Performing Arts but it is located in Washington, D.C., not Kennedy, Alabama where my dad was a pastor in the late 70s. As such, I didn't have the opportunity to be exposed to "the arts" the way some folks who spent their formative years in larger, more populous areas did. What are "the arts" anyway? Congress, in the United States Code, defines the phrase like this:
The term "arts" includes, but is not limited to, music (instrumental and vocal), dance, drama, folk art, creative writing, architecture and allied fields, painting, sculpture, photography, graphic and craft arts, industrial design, costume and fashion design, motion pictures, television, radio, tape and sound recording, and the arts related to the presentation, performance, execution, exhibition of those major art forms, and the study and application of the arts to the human environment.
Congress' recent and numerous shortcomings notwithstanding, I think that's a pretty solid explanation of the arts. I can only speak for myself, but I wish that I had had more opportunities to learn about and be exposed to various forms of the arts. My wife grew up dancing and singing and still does both of those things regularly as an adult. My son takes piano lessons and sings and my daughter takes violin lessons as well as dances under the tutelage of my wife who owns and operates a dance studio. I want my children to grow up with an appreciation for the beauty that can be found, not only in the performing arts they are involved in but in other forms of art as well. Larger cities like Montgomery and Birmingham provide a means for them to do that but I'd love for them to be able to have that sort of experience right here in Wetumpka as well.
With the growth that Wetumpka and Elmore County have experienced in the last several years I have to believe that there is an ever growing segment of the local population that would like to see the arts have a larger presence here.
The Wetumpka Depot Players
provide a number of high quality, award winning productions each year and our city is also home to
The Alabama River Region Arts Center
. Among others, there are art classes offered by Stephanie Burdick Harrison at
The Jasmine Hill Art Gallery
. My desire is to see more opportunities afforded Wetumpka residents to be able to both view and enjoy as well as actively participate in all forms of the arts. Perhaps a civic choral group of some sort or more emphasis on arts in some of our civic events. Even though I had to step away with the declining health and subsequent death of my mother there seemed to be much interest in having a music and arts festival in Wetumpka. I still think that is a very real possibility and hope to revisit trying to make that happen in the coming months.
Art is a broad term and a particular art form that one person enjoys may not be something that someone else does. That's okay. Variety, as they say, is the spice of life. We would all do well to follow my high school literature teacher's advice to me when I said that reading Shakespeare was stupid. She said that just because I didn't like it didn't make it stupid. It just meant that it wasn't exactly my cup of tea. Don't like what someone else is doing artistically? Do something different! Your preferred medium not being represented? Be the catalyst that gets it started! I think we are limited only by our own imagination and ideas. One thing I think that true art doesn't do is inspire hatred and vitriolic behavior. I believe that at its worst, one might find true art benign, perhaps based upon personal preferences. I think that true art can certainly inspire a vast array of emotions but at the end of the day is not harmful or damaging when taken in context. That's my opinion anyway. I digress.
So, what do you think can be done in Wetumpka to promote an interest in the arts, whether performance, visual, or literary? Are there things you are aware of that the rest of us may not have heard about? Do you have a talent or gift you could share with our community to promote the arts in some manner? Am I waiting for a ship that has long-since sailed or will never leave port? I hope not. I'd love to hear your thoughts. It's an election year here in Wetumpka which means it might be a bit easier to get some things done since politicians will be looking to please voters and secure their support at the ballot box. What do you think?